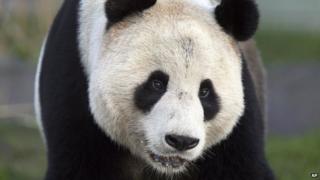 AP
One of the UK's two giant pandas is getting better after have colic which saw him removed from display as he tried to get better.
Yang Guang ('Sunshine') is "brighter and more active". Zoo bosses say he's started eating loads of bamboo.
He started feeling poorly a month after he and female panda Sweetie moved into their new home at Edinburgh Zoo.
Colic's a common complaint in humans, affecting around one in five babies - but its cause is unknown.
It's like a really painful tummy ache.
Simon Girling, Head vet at Edinburgh Zoo, said: "Yang Guang has been steadily improving from his bought of panda colic... immediately he seemed much brighter and more active, which is a good sign."
Yang Guang will remain away from the public for at least another two days while he recovers.