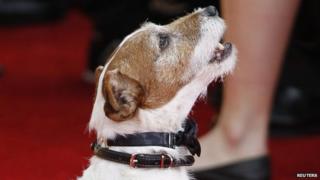 Reuters
He stole the show at the Golden Globes, and it looks like Uggie the dog might be putting on his bow tie to go to the Baftas!
The silent black and white movie The Artist which stars Uggie leads this year's nominations with 12 including Best Film and Best Director.
The 3D action adventure Hugo, set in 1930s Paris gets nine nominations including Best Director.
Best Animation nominees includes Steven Spielberg's The Adventures of Tintin.
Spielberg's adaptation of Michael Morpurgo's War Horse has five nominations, mainly for its special effects, but John Williams - the man behind the music of Star Wars has been recognised for War Horse's score.
The awards ceremony will take place at the Royal Opera House in London on 12 February.