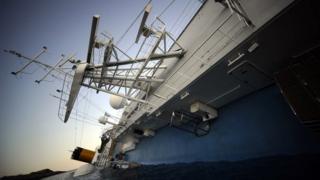 Getty Images
Emergency crews have been working through the night around the wreck of the Costa Concordia, but fears are growing for the people still missing.
Eleven people are known to have died after the Costa Concordia crashed into rocks off Italy's west coast on Friday night.
But local coastguard Marco Brusco said there was still a "glimmer of hope" that survivors could be found.
The ship's owners blame the captain, saying he changed the ship's course.
Because the ship was right at the start of its voyage, its fuel tanks are almost full - and people are worried about the fuel leaking out into the sea, causing environmental damage.
But the company that's in charge of dealing with the fuel says the tanks are intact and there's no risk of a leak at the moment.
The missing are thought to include four crew members, as well as passengers from America, Germany, France and Italy.
The ship's captain, Francesco Schettino, has been arrested and a judge is due to decide if he should still be held.
Captain Schettino said he'd done nothing wrong, saying the rocks the ship hit were not marked on his nautical charts.
The ship, carrying 4,300 passengers and crew, was on the first night of a cruise when it ran aground in calm conditions.