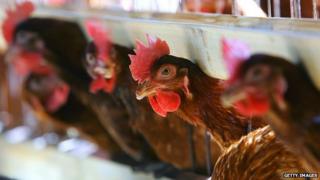 Getty Images
Up to half a million hens are still being kept in battery cages in Britain even though a big European ban came into force at the start of the year.
The UK government has complained about other countries breaking the rules, and said it's disappointed that about 30 UK farms are still using the cages.
They are confident the new rules will be in force nationwide by early February.
The European Union announced the ban on battery hens in 1999.
In the past some hens were kept in battery cages which were cramped and hot.
The change in law means all birds must be kept in bigger cages, but 14 EU countries other than the UK haven't med the deadline of 1 January.
The new EU rules say that new cages must be equipped with a nest and litter to allow pecking and scratching.