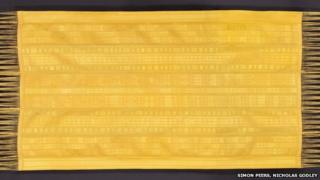 Other
Spider-Man is known for spinning webs and swinging from building to building but maybe he should have thought of becoming a fashion designer!
Later this month the only large textiles in the world created from the silk of spiders goes on display.
An embroidered cape and a 4-metre long scarf have both been spun from the silk of more than a million spiders.
The clothes have taken seven years to create - but what's most interesting about them is their golden colour.
The cape and scarf came from Golden Orb Weaver spiders collected in the highlands of Madagascar.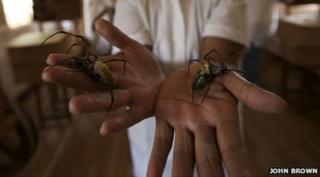 Other
Nobody has seriously tried using spider silk to make things since way back in 1900.
The guys behind this project, Simon Peers and Nicholas Godley started using the silk in 2004 and they are hoping they can get more people to use spider silk and revive this forgotten art.
But Simon admits that even after this project, he's still scared of spiders!
The silk garments will be shown at Victoria & Albert Studio Gallery in London, between 25 January and 5 June 2012.