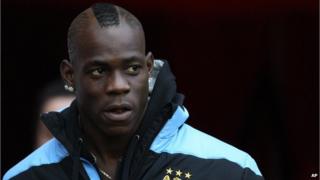 AP
Manchester City striker Mario Balotelli surprised students at a school when he walked in and asked to use the loo.
Balotelli, 21, turned up at the Xaverian College in Manchester on Thursday lunchtime.
He used the toilet before chatting to students in the canteen and then walked into the teachers' staff room.
Student Edward Gasson, 18, was sitting in the canteen with friends when Balotelli walked in.
He said: "Balotelli parked his Bentley outside then came in... after that he was just walking round campus like he owned the place and everyone was following him around."