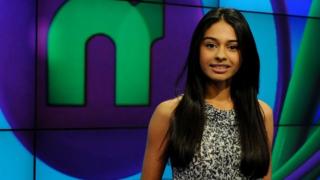 Nel Hedayat was one of Newsround's presenters from October 2011 til June 2014. Want to know more about her? Then read on...
Date of Birth
1 January - that's right, I'm a New Year's Day baby.
Where were you born?
In Kabul, Afghanistan.
Brothers/Sisters?
Two sisters that always have something to say and a cool brother, Idris, who's 11.
Hobbies?
Walking! Anywhere and everywhere all over the world. I also love making my own jewellery and going to watch a good film.
Favourite colour?
Purple, purple, purple.
Favourite item of clothing?
It's so cruel that I have to choose but... ummm... errr... no, it's too hard, I love them all!
How would you spend your perfect Sunday afternoon?
Shopping for a bargain in Camden Town market in London, looking for all those hidden gems.
Favourite animal?
Dolphins.
Favourite film?
Harry Potter and the Order of the Phoenix, The Last Airbender, Stardust, The Matrix, Up, A Series of Unfortunate Events and so many more.
Favourite band?
Kings of Leon.
What are you scared of?
Anything with more than four legs.
Who/what makes you laugh?
The people in the Newsround team always make me laugh.
What other jobs have you had?
Private teacher, sales assistant, perfume seller and my mum's slave.
Favourite actor/actress?
Christian Bale.
Favourite food?
Afghan food, and fish and chips!
Favourite holiday destination?
The Sierra Nevada mountains in Granada, southern Spain.
What makes a good NR story?
Something unique, that's also really cool. My favourites are stories I can get stuck into!
Any advice to children who want to get into journalism?
Practice, practice, practice - sorry to say it but it's true guys. If you want to go into writing then write a short article on a topic you're interested in for fun.
If you like radio or TV then listen to/watch the pros doing it and then try to do it in your own style. NEVER copy what you hear/see - you being different is your biggest advantage!
Best advice ever given?
Err… see above. What makes you different is often your biggest advantage.
What makes you happy?
A catch-up chat with my friends always cheers me up.
Favourite gadget?
My smartphone, full stop!
What's your biggest ambition?
To make sure that everything I do always challenges and questions what people think. That way I know that what I'm doing is important to someone, somewhere.