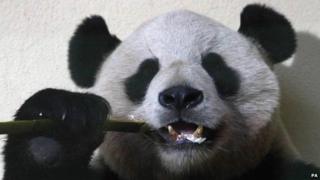 PA
One of Edinburgh zoo's pandas has been removed from public display because he's ill.
Yang Guang is suffering from colic, which causes stomach pains.
He's been living in Scotland since December when he flew over from China with his female friend Tian Tian.
Yang Guang started feeling poorly a few days ago, and he's been moved out of his enclosure while he gets better.
Iain Valentine from the zoo says: "We're mainly keeping him relaxed and indoors, although we expect he'll go out sometimes to stretch his legs.
"These episodes can sometimes last up to a couple of weeks, so he may not always be on show over the next week or so."
Colic is reasonably common in pandas, and he's expected to make a full recovery.
The two pandas will live in Scotland for 10 years and it's hoped that they will breed during their stay.
Colic is a condition which many human babies get, but no one's sure exactly what causes it.