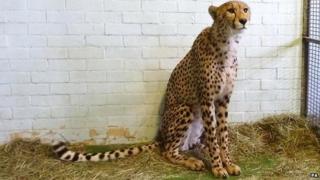 PA
A cheetah has been stopped at London's Heathrow Airport.
But he wasn't just sitting on the plane with passengers!
The African cheetah called Isaac was being taken from a South African safari park to Russia.
The authorities have stopped him from travelling further because he doesn't have a microchip.
The chip allows authorities to check the animal's details, like a passport.
They don't know if it's just a mistake, or if there are other reasons why the chip is missing - like smuggling.
Anyone who tries to send an endangered animal to another country without using a microchip is breaking international laws.
Isaac is being kept at a UK wildlife park while investigations continue.