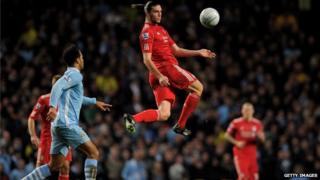 Getty Images
Manchester City lost 1-0 in a shaky start to their Carling Cup semi-final against Liverpool.
Roberto Mancini's men put on a poor first half display with several of their key players missing.
Steven Gerrard scored the only goal of the match with a first half penalty.
City dominated the second half but failed to get a goal, leaving them at a disadvantage for the second leg of the semi-final at Anfield.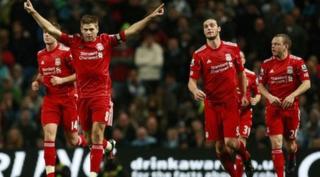 AP
Steven Gerrard was pleased with his side's performance, but warned it's not over yet.
"We've still 90 minutes to play," he said. "I'm sure it'll be a cracker at Anfield".
The Carling Cup semi finals are played over two matches. The winner of this semi will play in the final at Wembley against Crystal Palace or Cardiff.
In Wednesday's other Premier League action, Tottenham won 2-0 over Everton to increase their chances of a top title-winning finish. They now sit third in the table, level on points with second-place Manchester United.