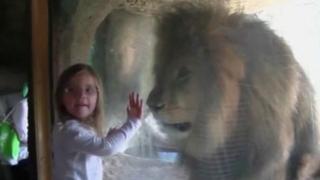 Watch Sofia meeting Malik
Next time you go to the zoo and get the urge to tap the glass in the lion enclosure you might want to 'paws' for thought!
Because that's exactly what Sofia Walker, age 3 did when she came face to face with a male lion in an enclosure at Wellington Zoo in New Zealand.
Caught on camera by her Mum and Dad, Sofia didn't seem bothered when eight-year-old Malik pawed at the glass.
In fact, Sofia was so unfazed by her meeting with Malik that she's keen to go back to the zoo to see her friend again soon.