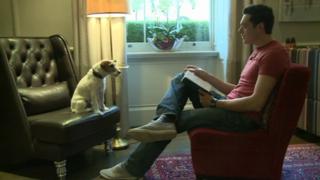 Watch Joe interview Uggie
Its a big week in the movie world with the awards bash the Golden Globes on Sunday.
Joe has been for an exclusive chat with one of Hollywood's latest stars, Uggie.
He stars in the film 'The Artist' which is being tipped to sweep the board at this year's Oscars - but there will be no Academy Award for Uggie, in fact he'll be lucky to get a chewy
treat and a bowl of water for his efforts despite being one of the silent film's biggest stars.
Uggie is a nine-year-old Jack Russell terrier and Joe's been to meet the unusual actor.