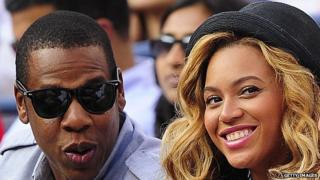 Getty Images
Jay-Z has posted a song about the birth of his and Beyonce's first child, their daughter, Blue Ivy Carter.
He released the track, Glory, with a statement on his social network website called Life and Times.
The couple said they're "thankful to everyone for all your prayers, well wishes, love and support".
"Her birth was emotional and extremely peaceful, we are in heaven. It was the best experience of both of our lives," they said.
They also said their daughter was "the most beautiful" girl in the world.
Blue Ivy Carter was born in New York City on Saturday, and loads of celebs have been wishing the family well.