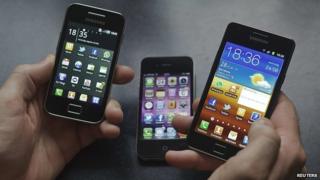 Reuters
Kids are switching off their TVs and looking at other devices instead, according to a new survey.
The number of you with televisions in your bedroom is going down - almost as many kids now have your own internet access in your room as have a TV.
Over 60% of children aged seven to 16 have a mobile phone with web access and use it for over an hour a day.
Chatting, texting and checking out stuff online are all accessed through mobiles or smartphones.
Tablet computers and laptops are taking over from big old-style desktop PCs too.
The report spoke to nearly 3,000 five- to 16-year-olds and it paints a picture of young people's lives at home, and the gadgets and tech they use.
Kids aren't tuning in for their favourite TV shows the way they used to either: on-demand viewing (like Sky+, Tivo and iPlayer) means they are moving away from sitting down to watch shows at the time they're shown on the telly.
Before school, children are now more likely to play with their mobiles than watch television - and when they get in at night, they rush to turn on their computers ahead of the TV.
Even the way kids read at home has changed, no more turning pages, its more likely they'll be reading their favourite tales through a screen rather than from a book.
But before we write off the TV altogether researchers say while children might be using the internet more than ever, the stuff they are looking at is related to TV programmes.