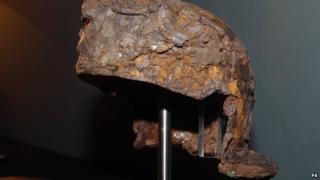 PA
It's taken 10 years to restore but a Roman helmet from Britain's Iron Age is going on display to the public.
The decorated Roman cavalry helmet was discovered at the site of Hallaton in Leicestershire.
Experts said it dates from close to the Roman invasion of 43 AD, which could mean that Celtic tribes were serving with the Roman army.
The helmet was discovered in tiny bits has now been completely rebuilt by a team at the British Museum.
They think it was designed to be used in special ceremonies, rather than in battle.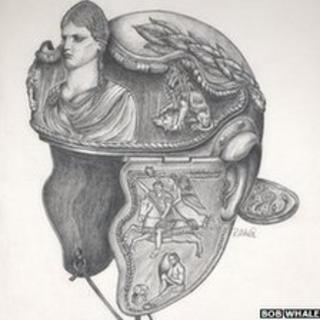 Other
It's a really important find, says Dr Jeremy Hill, from the museum: "Hallaton transforms our understanding of the Roman conquest of Britain.
"Even if it went into the ground in 43, 44, 45 AD, that is changing what we normally think is happening in the Roman conquest.
Dr Hill says: "We normally think of the Roman conquest of Britain as 'Romans versus us'. Here you probably have a situation where local Britons are fighting on the Roman side."
Big find
The site where the helmet was found was discovered back in 2000 and over 5,000 coins have been found there too - along with silver pieces and lots of bones.
The helmet's made of iron, then covered in silver sheet and decorated in places with gold leaf.
Lavish decoration includes a laurel wreath and a mounted figure, which could a Roman emperor.
The Hallaton Helmet will be on display at Harborough Museum, in Market Harborough, Leicestershire, from 28 January along with other exciting finds from the site.