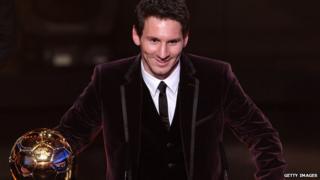 Getty Images
We all knew it already, but now it's official - Lionel Messi is the best player in the world, again!
He's just won the Ballon d'Or, a prize for the best footballer of the year.
It's all a bit old news to the Barcelona superstar striker though - it's the third time in a row that he's won it!
The prize makes him only the fourth player in history to win the award 3 times - and he's only 24 years old.
At the same awards, Manchester United manager Sir Alex Ferguson won an award for his services to football.
It was Messi's night though, beating Real Madrid's Cristiano Ronaldo and his Barca team mate Xavi to the big prize.
He must have quite a trophy cabinet now, as he also collected the Champions League and Spanish League titles, Spanish Cup, Uefa Super Cup and Club World Cup in 2011.
It wasn't as good a night for Man United's Wayne Rooney though - his amazing overheard kick against Manchester City missed out on goal of the year to Brazilian Neymar.