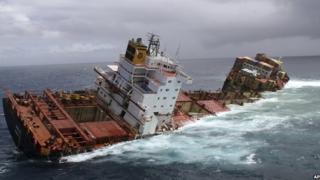 Watch footage of the Rena broken in two
A cargo ship that was badly damaged when it got stuck on a reef three months ago has broken in two, spilling containers and threatening a new oil spill.
Heavy seas have snapped off the stern section of the ship Rena, which leaked huge amounts of fuel when it became stranded in October last year.
300 containers have been washed away, and its likely most of them will sink.
Its feared that there could be a new oil leak, but the clean-up teams think it will be smaller than the first one last year.
The Rena's stranding has been called New Zealand's worst maritime environmental disaster.
The boat struck the Astrolabe Reef off the North Island resort area of Tauranga three months ago.
The ship's captain and other officers face up to 16 charges relating to the wreck.
Tonnes of milk powder from one of the containers have spilled into the sea, making the water around the wrecked vessel look really murky, according to reports.
Timber has also been sighted among the debris.
Hundreds of tonnes of fuel have spilled into the sea since the ship ran aground, killing hundreds of seabirds.
Salvage crews have removed more than 1,100 tonnes of oil from the stricken vessel, but there is still 385 tonnes onboard.