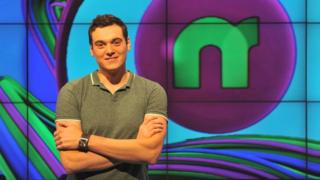 Joe joined Newsround in 2009 and graced our screens until October 2013.
Want to know more about him? Then read on...
And check out the clip of him on Newsround back in 1994!
Date of Birth
1st September
Where were you born?
Wexham Park Hospital in Slough.
Brothers/Sisters?
Three sisters!
Hobbies?
Watching films and doing triathlons.
Favourite colour?
Green
Favourite item of clothing?
My tiger hat.
How would you spend your perfect Sunday afternoon?
Go for a run in the woods, have a massive pub lunch, then watch a film and eat loads of sweets!
Favourite animal?
Tiger - roarrr!
What are you scared of?
Spiders
Who/what makes you laugh?
Ore being silly.
What other jobs have you had?
I used to be a waiter and I also worked in a video store.
Favourite actor/actress?
Actor - Leonardo DiCaprio
Actress - Penelope Cruz
Favourite food?
Tuna, cheese, beans, toast and sardines - yummy!
Most embarrassing moment?
When a pigeon pooed on my face in the park!
Favourite holiday destination?
Spain
What makes a good NR story?
Something that really makes people think, 'yeah, I know exactly what that person is talking about.'
Advice to children who want to get into journalism?
You've just got to work really hard, talk to as many people as you can and smile!
Best advice ever given?
Ask questions!
What makes you happy?
Sunshine on my face.
Favourite gadget?
My portable game console.
What's your biggest ambition?
To write a book.