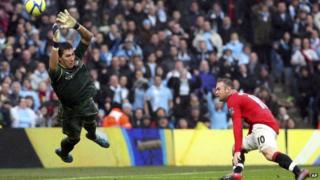 AP
Manchester United made it through to the fourth round of the FA Cup after beating local rivals Man City in an AMAZING derby.
The Red Devils won 3-2 at City's ground Eastlands - but both teams could have scored a lot more.
It all started very differently though, as United raced to a 3-0 lead by half-time.
But City piled on the pressure in the second half - and it was pretty tense by full time.
The big shock came before the match had even started, as Manchester United legend Paul Scholes was named as a substitute.
The midfield magician retired at the end of last season, but he came out of retirement to play for Sir Alex Ferguson's team!
And the shocks didn't stop there - City captain Vincent Kompany was sent off in the first twelve minutes, after he seemed to win a clean tackle.
It seemed a harsh decision, but the referee decided both the defender's feet were off the ground, so he had to go.
But even by then United were 1-0 up, after Wayne Rooney slotted in a super-accurate header.
Playing against 10 men, United then cruised to a 3-0 lead, with Danny Welbeck and Rooney scoring again.
But then United weren't to have everything their own way in the second half.
Aleksandar Kolarov and Sergio Aguero both scored for the boys in blue - and United were hanging on towards the end.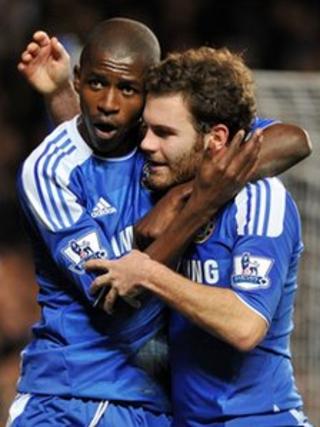 Getty Images
But hang on they did - and they now face another of their big rivals, Liverpool in the next round.
Also through to the next round of the cup are Chelsea - they beat Championship side Portsmouth 4-0.
The day before Tottenham cruised through against Cheltenham, Newcastle beat Blackburn and Fulham hammered Charlton 4-0.
Other Premier League teams Sunderland, Everton, Swansea and Norwich also made it through to the next round.