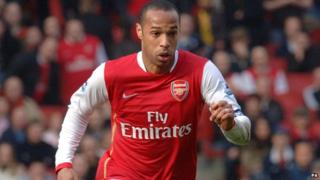 PA
Thierry Henry has completed a dramatic return to Arsenal on a two-month loan deal from MLS side New York Red Bulls.
The 34-year-old scored an incredible 226 goals in 370 games in his last spell at the club and became a Premier League superstar.
Arsenal are set to be without strikers Gervihno and Marouane Chamakh, who will be at the African Nations for the next two months.
If fit, Henry could make his comeback against Leeds in the FA Cup on Monday.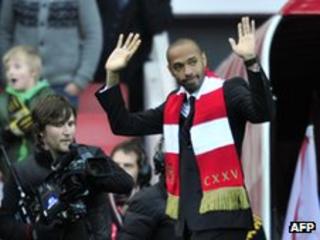 AFP
"I am sure during these two months he will be a massive asset to the team in the dressing room and on the pitch," said manager Arsene Wenger.
Henry was such a success in his previous spell with the Gunners, the club built a statue of the Frenchman outside their ground in his honour.
And when the chance to play for his beloved Arsenal once again was offered to him, Henry didn't have any trouble deciding what to do.
"When it comes to Arsenal, my heart will always do the talking," said Henry.
It's believed the former Arsenal captain will be able to help Wenger's side through a difficult period... and he might even score a few goals too!