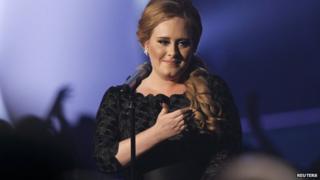 Reuters
Turns out 2011 was a big year for the girl with a big voice in America. Adele recorded both the top selling album AND single in the US last year.
Her album 21 sold... wait for it... 5.8 million copies, and single Rolling in the Deep sold the same number!
In fact, 21 is the top selling album for seven years, and hasn't left the top 10 since it was released.
It means Adele's the first British artist to get the top selling album since the Spice Girls.