Weather warnings have been in place for large parts of the UK as winds and floods continue to cause loads of damage.
Over 16,000 homes and workplaces have had no power - that can mean no electricity, lights, hot food, or heating.
Lorries have been overturned on the motorway in North Yorkshire and in Cumbria on Thursday there was a gust of wind touching 111mph.
We want to know if you've been affected.
Send us your comments below, or if you've got pictures you can email them to newsroundpix@bbc.co.uk - but don't forget to tell us your name, age and where you're from!
Your comments:
"Near my house there is a shop with a HUGE metal banner. My Mum told me that it fell down whilst I was at school. Luckily, no one was standing underneath it, so no one was hurt."
Emily, 12, London, England
"The wind has been bad here, our trampoline is completely smashed up and the scaffolding that was up the side of our house fell against my window, luckily it didn't smash. My sister's high school' s front door was smashed because of the wind.... The sea was coming over the bank the wind speed was over 100mph. It's awful, the power was off for ages and when it came back on it went straight back off."
Emily, 11, west coast of Scotland
"We had a power cut for 3 hours - the lights are still flickering, it was boring. I feel sorry for people who have had power cut for days."
Bryanna, 9, Ireland
"We have had strong winds too but it's not been as bad as in some parts of the country. The wind made me walk and run so fast that I nearly fell over while I was to school this morning, luckily I'm safe, cosy and warm inside my house now. Good luck to other children who are in heavy, strong and worse conditions!"
India, 11, London, England
"The weather here is shocking. Stairs have turned into waterfalls and my school's built on a hill so the majority of the bottom half is flooded - it's been a nightmare getting around. Also, my road is completely flooded so I'm getting soaked. I wish the summer sun would come out!"
Lauren, 14, Yorkshire, England
"Our garden shed got blown out of the ground and onto the road!"
Olivia, 11, Merseyside, England
"Our school telephone wire collapsed onto the staff car park! We still had to go into school... Also, our satellite dish was damaged - I can still watch CBBC though! "
Maddie, 11, Slough, England
"The wind was so strong that the 3 seat swing in my garden fell down!"
Louisa, 10, London, England
"The wind is so bad that it blew water from a puddle into my face."
Ria-jade, 12, Middlewich, England
"My School was closed today because the whole of the village had no electricity. Also, my Dad's office has no internet and my house's electricity keeps going off and on."
Florence, 10, East Cheshire, England
"My Dad clears trees off the road if it's a windy day, so it's been a very busy day for him."
Matthew, 10, Down, Northern Ireland
"We've had the day off as the wind blew the roof off our primary school. No school for us tomorrow too."
Sophie and Amy, 11 and 7, Kent, England
"I couldn't go to cricket because the windows have been ripped off in my team's venue."
Tom, 10, London, England
"I live in Germany and the weather is really bad here as well. My school is in the middle of the Rhine river, on an island, and at the moment the ferry can't get across because the water levels are too high! Trees have also been knocked down."
Nicholas, 13, Bonn, Germany
"On the way home my path was blocked by a fallen tree. We had to squeeze through the branches to get past. Luckily my tights didn't rip!"
Holly, 12, Poole, England
"I was walking home from school when a massive gust of wind nearly blew me into a gate that was hanging off of its hinges! The wind is so bad that I have to sleep in my Mum's room because my bedroom is too noisy to sleep in. "
Georgea, 15, Blackpool, England
"The wind has blown our side fences down and now our dogs can get out of the garden, it is a nightmare for Mummy and Daddy."
Erin, 7, Suffolk, England
"I haven't slept for days and all my clothes are wet from the weather. The wind even swept my school bag away."
Dana, 14, Bradford, England
"A tree fell over onto the road where I live, now there's a big hole in the pavement - the tree had brought the pavement up!"
Jacob, 10, Bristol, England
"The wind has been so strong here that my friend's chimney was blown off their roof, leaving a hole. And the rain fell into it..."
Daisy, 9, Fife, Scotland
"The fence separating my garden from next door's has fallen down and at the top of the hill I live on a wall was broken. My Mum burst her tire after going over some of the bricks! This weather needs to go away!"
Ellia, 12, Kent, England
"It's really windy here in Norwich! I was taking my dogs for a walk and one of them fell over because of all the wind! I also nearly fell over myself. I'm happy to be inside now and nice and warm, so are the dogs!"
Megan, 11, Norwich, England
"My back fence was blown down and we have an electricity pole in our back garden that is really wobbly!"
Jennifer, 10, East Ayrshire, Scotland
"The weather has been so bad that my Mum' s car door flew off and broke my next door neighbour's window!"
Shanvey, 12, North Yorkshire, England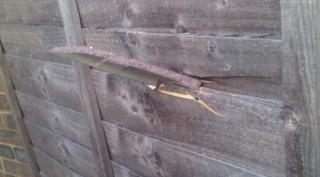 Other
"The weather is bad here too! Our trampoline has blown over and is now stuck in a tree, we can't get it out!"
Olivia, 12, Chester, England
"The bus stop outside our house was blown over!"
Kat, 11, Edinburgh, Scotland
"I couldn't go to school today because there was so much rain that I couldn't even see what was ahead of me!"
Amy, 12, London, England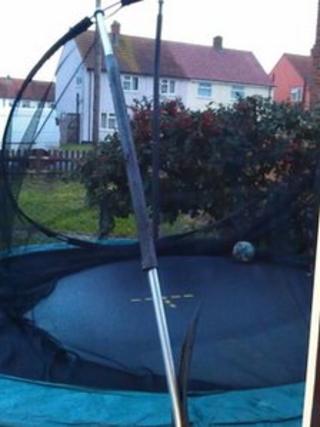 Other
"My school has closed and my Mum' s washing was blown into next door's garden, even though she had weighed it down with rocks. My new top is ruined!"
Izo, 10, Southampton, England
"The weather is so bad here that I haven't been able to play football!"
Johnathan, 12, Essex, England
"I had a day off school today because the wind was so bad last night that it damaged solar panels and tiles on the roof. At least I had time to catch up on homework!"
Hannah, 13, Norwich, England
"On my way to school a tree crashed on to a car causing a road block. No one was hurt, but as it took an hour to clear, most of us got to go home."
Joey, 13, Essex, England
"I can't get to sleep at night because the wind and rain has been blowing against my window and making a loud noise."
Shannon, 10, Swansea, Wales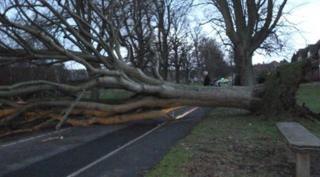 Other
"It's bad here in Wales, with hailstones, rain and winds of up to 98mph. I'm scared to go out."
Morgan, 9, Aberdare, Wales
"We are experiencing high winds and heavy rainfall. One of our class member's fences has fallen down, but otherwise there has been no further damage. Izzie was nearly trapped in her garage, whilst feeding her guinea pig this morning, after the wind had blown the door shut!"
Year 4, Wiltshire, England
"I'm ill because of the weather. I've heard that in Scotland the weather is even worse. I'm worried about my family, they might get blown away!"
Nishat, 9, London, England
"In the Isle of Man there have been very strong winds, which we are used to. Some boats have been cancelled and at school we haven't been able to go outside because of the strong winds."
Class 3J, Douglas, Isle of Man
"It is not too bad here, we have had no power cuts, although some of the lights keep flickering. It is quite windy and rainy, but that is usual for Scotland!"
Hannah, 13, Aberdeenshire, Scotland
"The weather is affecting everyone. It's very hard for old people, if they need to go out, how will they manage on their own? My Nana lives on her own at the bottom of a very steep hill, trees are falling down all the time near her, she hates the bad weather!"
Isabel, 11, Oxfordshire, England
"The wind ripped my shed off its base, it knocked down my fence and landed on my car. The top bit of my roof was blown off too. Lots of slates have fallen off roofs and car windows have been smashed. The top of a distillery was blown off too!"
Charlotte, 13, Islay, Scotland
"My neighbour's greenhouse door was blown off because of the wind!"
Louise, 12, Kildare, Ireland
"If you were in our next-door's next-door neighbour's back yard, you would be able to walk right into their other neighbour's back yard, without going into the lane - all the fences have blown down!"
Katy, 9, Glasgow, Scotland
"The weather is affecting me badly because it is so horrible - Christmas crackers and wrapping paper are in my front garden, it looks awful! Dodge and Hacker would probably really like it though!"
Holly, 12, Sheerness, England