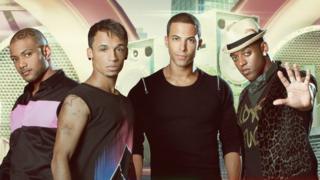 Other
They've barely been out of the charts since the release of their debut single, Beat Again, back in 2009, but are JLS set to stay on top with the release of their third studio album, Jukebox?
When's it out?
It's out now!
The style
If you're familiar with JLS's style then you can expect more of the same! They take classic RnB and turn it on its head by mixing it with some synthetic dance beats and electronic vocals. Think Chris Brown, Jason Derulo, Taio Cruz and the like!
The hits
The recent smash singles She Makes Me Wanna and Do You Feel What I Feel kick start this album into gear. They set the tone for the rest of the tracks so if you like these songs you won't be disappointed.
We prefer the second half of Jukebox to the first as the melodies are a lot more inventive. So Many Girls has a really strong bass, good harmonies, and there's even a bit of beatboxing thrown into the mix. Innocence is a mid-tempo track and the message is a bit more meaningful than you would usually expect from JLS!
The misses
A lot of the songs on this album sound like a mixture of everything we've already heard in the charts in 2011 - we want to hear some more original tracks from JLS for 2012.
Teach Me How To Dance is our least favourite song, which has the JLS boys singing, "Teach me how to dance da- da- da- dance, da- da- da- dance" over and over again - we reckon some of you guys could write songs better than this one!
Chart-topper or bargain bin?
If you're looking for an album that you can put on and dance in front of the mirror to or have a boogie with your mates then JLS's Jukebox is ideal. But if you're looking for something with a bit more depth then there's other stuff out there that might work better.
Newsround rating: 3 out of 5