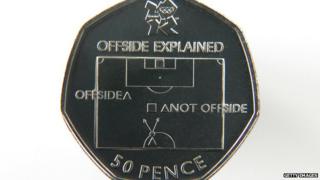 Getty Images
It's the rule that confuses more football fans than any other - but now help is at hand.
A new coin is being released that the designer, a sports journalist, hopes will help to explain the offside rule.
The 50p has been made to commemorate this year's Olympic games - and was designed as part of a competition.
The winning design was thought up by Neil Wolfson - who hopes people can use the coin when they are trying to explain the complicated law.
The rule is famous for being quite tricky to explain, but here at Newsround, we think it's easy.
Here goes... When the ball is played forward, there must be a defending player between an attacking player and the goal. As well as the goalkeeper. And the attacking player must be taking part... and there has to be daylight between the two... and you can't be offside from throw-ins... no hang on, you can... errrrrr.
You'd better just look at the coin.