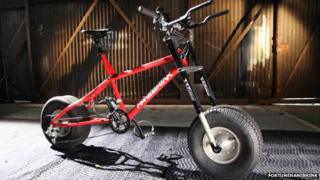 Other
So Helen Skelton has set off on her incredible mission to the South Pole.
She's aiming to be the first person ever to use a bike as part of the 500-mile journey.
But between her and that record are freezing winds, millions of tonnes of ice and temperatures as low as -50C (that's wheely cold!)
So to do it, she's going to use a pretty special bike. Read on Newsrounders, and all will be explained...
Far from your average push bike, Helen will be using the specially-built Hanebrink 'Ice Bike'.
All the way from America, it took designers there three months to design and build, and modelled on its older brother.
That bike took a polar explorer 200 miles around Antartica - and Helen's bike is the new improved model, designed specially for her.
On her journey, Helen will have to pull about 13st in equipment - which is about the weight of an average UK man so the ice bike has to be made as light as possible.
It's heavier than an average mountain bike at about 20kg, but most of that is the bike's huge, thick tyres that it needs to get over the rough, icy ground.
It doesn't have any fancy features - just a tough, light frame that can stand up to some of the harshest conditions on the planet.
So will it work? Well... no-one really knows! No-one has ever taken a bike to the South Pole before, and that's what makes Helen's challenge unique.