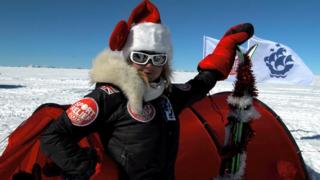 Helen's trek to start Wednesday
Storms and bad weather have delayed it, but Helen Skelton should begin her South Pole mission on Wednesday.
The Blue Peter star is going to try and travel the 500-mile journey to raise money for Sport Relief.
She hopes to use skis, a kite and a bicycle to make the trip across Antarctica, battling freezing temperatures and icy winds as she goes.
The delay means she'll now only have 20 days to make the journey, instead of the planned 24.