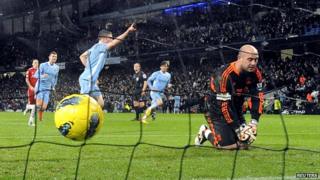 Reuters
Manchester City open up a three-point gap at the top of the Premier League with a comfortable 3-0 victory over Liverpool.
In the first of three meetings between the two sides in January, City came out clearly on top.
City's three winners came from Sergio Aguero, Yaya Toure and James Milner from the penalty spot.
Meanwhile Sunderland had a 4-1 away win over Wigan and Tottenham completed a simple 1-0 win over West Brom.
With a style that stopped Liverpool in their tracks, City's only problem was when Gareth Barry was sent off after a second yellow card.
This means he misses Sunday's FA Cup derby against Manchester United.
Liverpool were without key striker Luis Suarez.
They have decided not to appeal against his eight-game ban from the Football Association for his racial abuse of Patrice Evra.