Watch an ancient Italian winter tradition... but don't try this at home!
Hundreds of people turn out to watch six men honour an old tradition and dive from a bridge in Rome into the cold winter water of the River Tiber.
Experts warn that the drop from the high bridge into the river is a dangerous way to see in the new year.
The full height is 17 metres - the same as three double decker buses!
These are part of the celebrations in many countries to mark the ancient festival of Epiphany.
This is when some Christians remember the wise men bringing gifts to Jesus in the nativity story.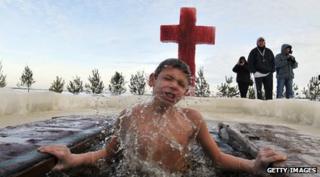 Getty Images
But over the years it's become more to do with jumping into water! People use it as a symbol to cleanse themselves of anything bad, and begin the new year afresh.
It's marked in other ways too. In Spain and Ethiopia, huge street celebrations are held. In Ukraine, doves are released as crowds gather in the streets.
In 2012 Epiphany is celebrated on 6th January.
Pictures from Reuters.