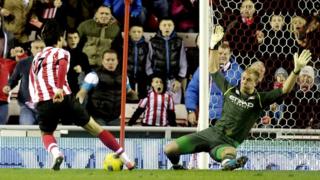 Getty Images
On their New Years' Day fixture against Sunderland, Manchester City missed the chance to pull ahead of Manchester United at the top of the table.
Sunderland's 1-0 win came in the last minute after keeper Joe Hart failed to stop Ji Dong-won tapping the ball in.
Sunderland's new boss Martin O'Neill leapt in the air with delight.
Meanwhile West Brom boss Roy Hodgson was left feeling grumpy after his side lost 1-0 at home to Everton.
On Monday Aston Villa hosted Swansea - and lost 2-0. Wayne Routledge scored the second for Swansea, his first ever goal in the Premier League.
Blackburn suffered a 2-1 home defeat to Stoke, despite beating Manchester United 3-2 only days earlier.
Wolves and Chelsea fought a tough contest but Chelsea delivered a 2-1 win, a relief for boss Andre Villas-Boas.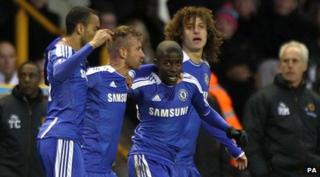 PA
Meanwhile Joey Barton was given a red card at QPR and saw his side beaten 2-1 at home by Norwich City.
In the Scottish Premier League Celtic eased 3-0 past bottom side Dunfirmline, while Hearts beat Hibs 3-1 in the day's early kick off.
Rangers beat Motherwell 3-0 and Aberdeen came back from behind to win 2-1 against Dundee.