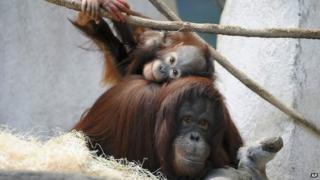 AP
Orangutans at an American zoo could soon be video calling their friends with iPads!
The monkeys have been playing with the tablet computers ever since they came out in May.
Zoo keepers now think the next step is to get them video calling other orangutans in different zoo across America.
"The orangutans love seeing videos of themselves and others' said Richard Zimmerman who works with the monkeys.
Video calling would be a big step up for the hairy group, who up until now have only been using simple drawing and painting apps.
But being curious creatures means that sometimes the equipment they are given doesn't last long.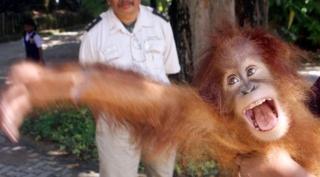 AP
"As soon as we hand them over to the orang-utans, we figure the lifespan could be as little as 15 seconds - whether they take them apart or just snap them in half."
And iPads aren't the only piece of technology these orangutans enjoy.
According to Mr Zimmerman one of the orang-utans enjoys watching Sir David Attenborough's wildlife programmes!