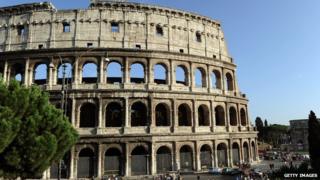 Getty Images
Its one of the most famous sights in the world, but is the Rome's Colosseum falling down?
Gladiators once fought beasts in this 2000-year-old building, but there are fears it might be crumbling to bits.
On Christmas day a segment fell from the first floor and there have been other reports of more pieces of rock falling down since then.
A project to restore the building will begin in March, costing over £21 million.
Environmentalists claim pollution from all the traffic and constant vibrations from nearby cars are damaging the monument.
But museum authorities say there is nothing to worry about and this kind of small scale damage is just the result of changing weather conditions.