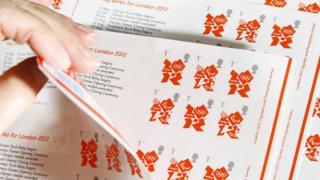 PA
There are only 212 days until the London 2012 Olympics and the Royal Mail are helping mark the countdown.
Sets of "everyday" first class stamps displaying the Olympic and Paralympic logos will go on sale next week in shops around the UK.
They will be available from thousands of shops and all post offices in books of six from 5 January.
This type of stamp - known as the "definitive" version - usually only features an image of the Queen.
This is the first time a commercial logo has been included on it, Royal Mail has said.
Two versions of the stamp books are to be made available.
One will list the main dates in the countdown to the Olympics in July and the Paralympics in August.
The other will contain a quote from London 2012 chairman Lord Coe.
Royal Mail has already issued 30 special stamps in the past three years. These have featured all of the sports which are to be included at next year's Games.
It is also planning to create "gold medal" stamps every time a member of Team GB is awarded gold at either the Olympics or Paralympics in London.