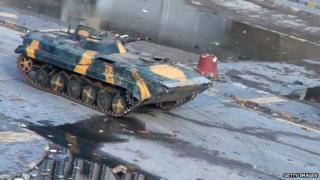 Getty Images
An Arab League observer mission has arrived in the Syrian city of Homs.
The team of observers arrived in the city of Homs which has seen a lot of violence.
Activists say security forces killed 30 people on Monday but that the tanks had begun to leave Homs early on Tuesday.
The United Nations says more than 5,000 people have been killed in a crackdown against anti-government protests.
The protests against President Bashar al-Assad started in March after a number of rebellions across the Arab world.
The Syrian government says it is fighting armed gangs and that hundreds of members of the security forces have been killed as well.
Casualty figures are hard to confirm as most foreign journalists are not allowed to report from Syria.