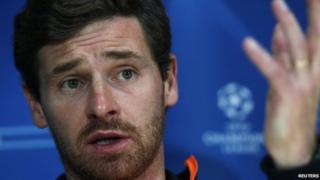 Reuters
Chelsea has all but given up on its Premier League title hopes.
The Stamford Bridge side took the lead in the 47th minute with a goal from Juan Mata.
Clint Dempsey's equalizer for Fulham gave their London rivals their third 1-1 draw in a row on Monday.
Halfway through his first season in charge, Andre Villa-Boas' Chelsea are now 11 points behind the pacesetters - Manchester rivals City and United.
"Maybe the Premier League is over for us at the moment," Villas-Boas said.
"We'd targeted the December fixtures as an ideal situation to find out what would happen in the Premier League ...
...you cannot live under false expectations when the gap is this big."
The draw leaves Chelsea just a point ahead of Arsenal, who drew 1-1 with Wolves on Tuesday night.