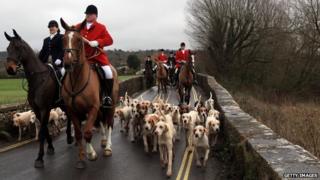 Getty Images
Boxing Day in England and Wales is one of the most important days for fans of hunting.
The Countryside Alliance estimates that more than 250,000 people are expected to turn out today to 300 hunts across the UK.
Jim Paice who is the Agriculture Minister is in favour of hunting with dogs - claims that the Hunting Act "simply doesn't work" and is pushing for a date to be set for MPs to have a vote on the subject.
The Former Labour Government banned the hunting of wild animals with dogs in 2005. Shadow Environment Secretary Mary Creagh said today: "There is no place for animal cruelty in a civilised society and most people back Labour's ban on hunting wild animals with dogs.