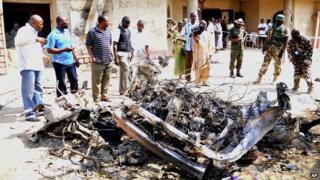 AP
Bomb attacks in Nigeria have left at least forty people dead.
Thirty-five of those who died were hit by a bomb at a Roman Catholic church near Abuja.
Pope Benedict gave his support to the victims and described the attacks as an absurd act.
The Nigerian President, Goodluck Jonathan, said they were an act of disrespect to freedom. A group called Boko Haram, said it carried out the bombings.
The attacks have raised fears that the group are trying to start a religious war in the country.
People on the streets of Lagos said they were very angry about the Christmas Day bomb attacks.
Some blamed the government for not doing enough to address the country's problems.