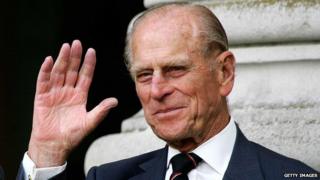 Getty Images
The Duke of Edinburgh has left hospital in Cambridgeshire after four nights.
The 90-year-old had been in Papworth Hospital since Friday after he complained of chest pains.
Doctors at the hospital ran tests on Prince Philip and discovered a blocked artery and went ahead with a minor operation to help his blood flow better.
Prince Philip, waved to reporters as he was driven back to Sandringham.
Usually on Boxing Day he would lead the Royal Family's shooting party.
But this year he was told by his doctor's not to leave his bed while they kept an eye on his recovery.