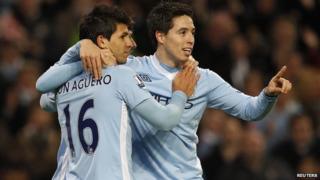 Reuters
Two goals from Sergio Aguero helped Man City to a comfortable win over Stoke and ensured they will be top of the Premier League at Christmas.
Man Utd remain only two points behind the leaders after beating Fulham 5-0.
Arsenal also had a taste of victory - beating Aston Villa 2-1. Villa's goal was scored by Marc Albrighton and was the 20,000th goal in Premier League history.
Everton, West Brom and Sunderland also took home three points.