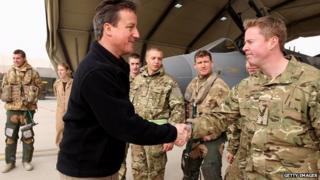 Getty Images
Prime Minister David Cameron has made an unannounced visit to UK troops in Afghanistan.
But due to a dust storm, he was unable to fly to Camp Bastion - the main British base - and had to go to a base in Kandahar instead.
He met UK servicemen and women who are currently serving in the country.
The trip came as the government said it was putting together a special group of politicians to make decisions about the armed forces.
Some 500 British servicemen and women are due to be brought home from Afghanistan in 2012 and the Prime Minister indicated that more would leave in 2013.