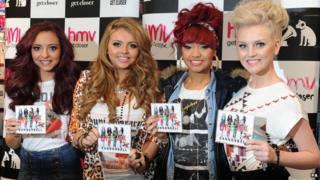 PA
Little Mix have only just won the X Factor and already it's looking like they're here to stay!
Their first single, Cannonball, has hit the shops and is in the running for this year's Christmas number one. But will it be at the top of your Christmas list this year?
When's it out?
It's already out!
The style
The song kicks off with some lovely soft vocals from each of the girls, reminding us all of their individual talents.
It gradually builds into a more pacey chorus which will have you hooked! The girls really give it their all and the song has real emotion.
It's not the style we're used to from them but it's a great debut single for the girls and reminds us why they won the X Factor.
Will you still be humming it next week?
Definitely! It won't exactly get you dancing in you bedroom but hear it once and you'll be singing it in school all day!
Will it make the charts?
They're up against some stiff competition for the top spot but we think those little muffins will be taking over the charts this Christmas!
NR rating: 4 out of 5