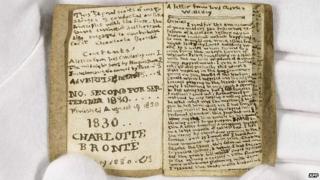 AFP
An unpublished manuscript written by the famous Jane Eyre author, Charlotte Bronte, has been sold at an auction for £690,850.
It was written in 1830, when she was 14-years-old and is called Young Men's Magazine Number Two.
A museum in Paris has bought the manuscript at an auction in London and plans to put it on display from January.
It had been expected to sell for around £300,000.
The manuscript is 19 pages long and contains stories set in a place called Glass Town.
It's worth so much because it was written when Charlotte Bronte was young and shows how her writing developed.
In the author's hometown of Haworth in West Yorkshire, a museum set up at the house she lived in with her family had appealed for donations to buy the manuscript, but they were outbid.
Altogether, there're six editions of the magazine. The Bronte Parsonage Museum in Haworth already owns four of them. Now this issue's been sold, there's one edition left but no one knows where it is. It's sure to make a lot of money if it's ever found.