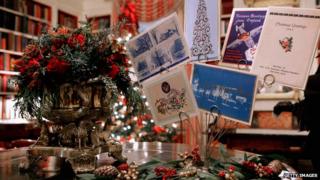 Getty Images
Teachers at a school in Wales have denied reports they've banned children from sending Christmas cards.
Pupils at Cenarth Primary School have been making joint class Christmas cards instead of sending individual ones.
But the school hasn't lost it's Christmas spirit - its an "eco school", so they're trying to cut down on waste.
750 million cards are sent every Christmas. That's a lot of paper and some people think we should send fewer.
But the Head teacher at Cenarth Primary has denied reports in the news that they've banned and confiscated Christmas cards. She says children there are free to send cards to their close friends.
Sending joint cards is not the only thing the school's been doing to cut down on Christmas waste. They've also decorated their tree with eco-friendly decorations.