Michael Jackson's daughter Paris has been talking about how she felt about having to wear a mask when she was young.
She said she used to think it was silly: "Yeah, I'm like this is stupid, why am I wearing a mask? But I kind of realised the older I got, like, he only tried to protect us and he'd explain that to us too."
Her father wanted to protect her identity and she appreciated that when she went to school.
She said she had a normal childhood: "I mean, I'm treated the same. When I came to Buckley [her school] they didn't know who I was. I was like, yes, I have a chance to be normal!"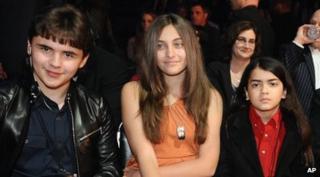 AP
Paris has also revealed that her superstar dad got her interested in acting.
The 13-year-old has landed a role in a new fantasy film called Lundon's Bridge and the Three Keys.
Paris said: "My dad was in the movie Moonwalker and I knew he could sing really well but I didn't know he could act. I saw that and I said, 'Wow, I want to be just like him.'"
The budding star also said she and her father would improvise together: "He would give us little scenarios. He would [say] 'OK, in this scene you're going to cry' and I'd cry on the spot."
She was interviewed by the US chat show host Ellen DeGeneres.