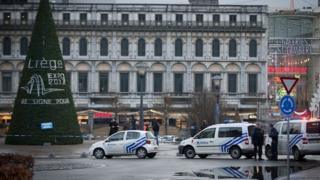 AP
Peoplein the Belgian city Liege fell silent at midday for the victims of yesterday's gun and grenade attack .
Five people, including the gunman, are dead and it's now known around 125 have been injured.
Police are trying to work out what made 33-year-old Nordine Amrani attack shoppers in a busy square.
He'd spent time in prison for previous offences but wasn't thought to have mental problems.
It's believed Amrani attacker acted alone.
The Belgian Prime Minister said it was an "isolated case".
The country's king and queen visited Place Saint-Lambert on Tuesday evening to pay their respects. The square has now been reopened to the public.