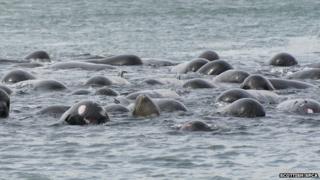 Other
More than 3,400 whales, dolphins and porpoises have stranded on UK beaches over the past six years.
Scientists have been investigating beachings and why they happen.
But they say they need more people to report stranded animals to help them understand why they get stuck and how to help them.
Thousands of leaflets with information on how to identify stranded animals will be distributed around the UK coastline and put online.
"Without the help of the UK public over the last six years, we would not have been able to investigate strandings effectively," said the project manager Rob Deaville.
"However, some strandings are still going unreported in the UK."
The CSIP, which brings together scientists from around the country, also found the most common reasons for stranded animals not survivng were disease, starvation and getting tangled in fishing gear.