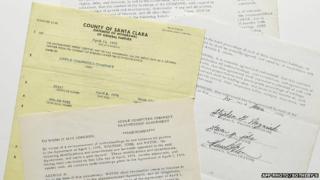 AFP
The pieces of paper that kickstarted computer giant Apple have been sold for more than £1 million at auction.
The documents were signed on 1 April 1976 by the three Apple co-founders - Steve Jobs, Steve Wozniak and Ronald Wayne - although Mr Wayne quit less than two weeks later.
Six bidders fought for the legal papers over telephone and online in the Sotheby's auction.
It was bought by the boss of a big firm for one and a half million US dollars.
The seller, the head of an company in New York, said he bought the papers in 1994 for "several thousand dollars" - so he made a big profit.
Apple's creations like the iMac and iPhone have helped the company become one of the biggest in the world.