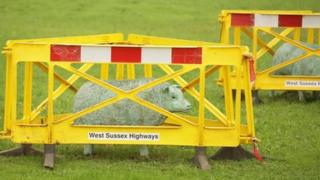 (C) British Broadcasting Corporation
What's green, has 24 feet and lives on a roundabout?
Six green plastic sheep of course. The fake flock have been put behind bright yellow safety barriers to stop drivers thinking they are real.
A group of six sheep were installed at a West Sussex roundabout at the end of November to promote the South Downs National Park status.
The local Council said the sheep had also been painted green to stop drivers thinking the flock were real.
West Sussex Council says its now working with the sponsor on a long term solution to the confusion.