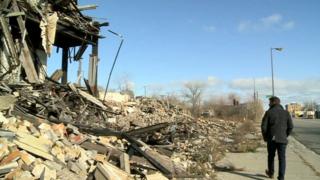 Has Obama changed US fortunes?
When US President Barack Obama first moved into the White House, there was one big word at the top of his to-do list... MONEY.
Like many other countries, America has big money problems.
So on Ricky's road trip, he visited one of the USA's worst-hit areas - Detroit in Michigan - to see if Mr Obama has been able to turn things around there.
Detroit was nicknamed "Motor City" because it once made the cars that powered America, but competition from other countries meant many car companies shut down for good.
In the past 10 years, almost a quarter of a million people have left to find jobs elsewhere.
In his report, Ricky visits a soup kitchen helping struggling families and meets a man who's turning spaces where houses used to stand into farms.