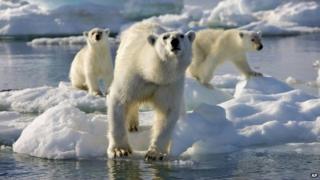 AP
The BBC's Frozen Plant has had millions of viewers hooked on its stories of life in the Arctic and Antarctic.
But its being claimed the people who make the show misled viewers by using shots of newborn polar bear cubs filmed in an animal park and not in the wild.
The BBC says the footage would have been impossible to film in the wild and says viewers weren't misled.
The Frozen Planet website showed how cameras were rigged in the zoo, even though it wasn't mentioned in the show.