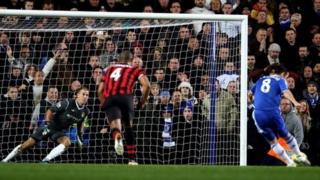 Getty Images
Manchester City have lost their first Premier League match of the season going down 2-1 against Chelsea.
Mario Balotelli scored for City after only two minutes but Raul Meireles answered back and gave Chelsea their first goal before half time.
Frank Lampard came off the bench to score the winner from the penalty spot.
The game saw seven yellow cards and even one red, reducing City to ten men after Gael Clichy was sent off.
After winning their last 15 games, City boss Roberto Mancini was disappointed to see their unbeaten run come to an end.
They now only have a two-point lead over neighbours Manchester United at the top of the table.